U.K. Subs play

Queen's Hall, Nuneaton, England
ZIEZO ALBUM LAUNCH PARTY


LINE UP:
CHARLIE HARPER
vocals & harmonica
JET


guitar
ALVIN GIBBS


bass
JAMIE OLIVER


drums
4 May 2016 Pledge Update: Ziezo Launch Gig Thanks

The band have posted a new update via their Pledge page:
"Monday night!
Wow…. Just wow. How much fun was Monday night???
Thanks to everybody who came to our album launch party at the Queens Hall in Nuneaton. We were absolutely blown away and still buzzing for days after.
Here's a little clip of Charlie and Jamie performing their acoustic version of 'Warhead' shot by Steve Cotton. This was the chilled out beginning to one of the most incredible nights we can remember.
Thanks again, you rock!
Again, the full update and comments section can only be accessed using the Access Pass included with your Pledge. Check it out
HERE
ART OF THE STATE WEBSITE REVIEW & PHOTOS:
By Steve Cotton...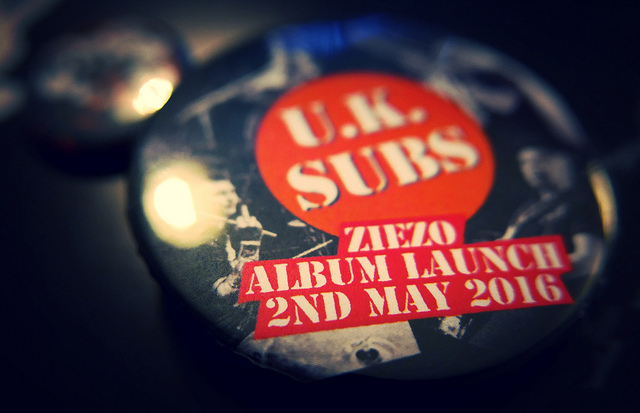 Text only archived below:

"UK SUBS – 'Ziezo' Album launch gig, Monday 2nd May 2016 at Queens Hall, Nuneaton

Champagne at the door, commemorative badges for those who had bought their tickets on pledge and a bunch of die hard Subs fans from all over the place making the trip to Queens Hall in Nuneaton meant that this was never going to be a run of the mill gig. Billed as the launch party for Ziezo, the bands 26th and final release in their A-Z album offering there was plenty for all to celebrate and a whole evening set aside to do just that.

Taking to the stage for the first of three sets Charlie Harper started the evening off playing acoustic versions of UK Subs classics on his own.With a little time to reminisce about each song before playing it he shared with the crowd the story behind one of their most famous Top Of The pop moments – 'Stranglehold'. Turns out it was about a thirteen year old girl called Bonita who was keen on Pete Davies, the Subs drummer on many of their top 40 singles. Charlie joked that she's probably about fifty now – which would make her one of the younger ones attending this gig! Jamie Oliver came out to join in on a guitar and finally a uke for the remainder of the opening set, sitting on a resplendent custom made drum stool and really filling out the sound on the songs. The crowd played their part too, joining in with the singing, building up a great atmosphere with those on both sides of the stage barriers clearly enjoying themselves.

When the full band arrive for the start of their set it's the turn of the most stable line up in the bands history. Guitarist Jet and bassist Alvin Gibbs have both put in long stints in the group and along with Jamie have contributed fully on their recent output. Material from the last four albums makes up the whole of this really strong section with a dozen modern classics including 'Hell Is Other People', 'Monkeys', 'Suicidal Girl' and 'Sick Velveteen'. Already a firm fan favourite 'Banksy' is so recent Charlie has to occasionally look down to remind himself of the lyrics. It's got that classic UK Subs hook, the sort of simple guitar lead that makes 'New York State Police' such a staple of their gigs. A rather ambitious request from the crowd for a Prince cover meets with incredulity from the band. Charlie is un-phased though and says whilst he might like a couple of his songs (1999 and Little Red Corvette) he really liked the fact that Prince put his money where his mouth is in his Minneapolis home, ensuring there was not just a big venue for bands to play but a 200 capacity hall as well – frequented by many punk bands over the years.

Coming out for the final session the band ripped through tracks off the album that started it all – Another Kind Of Blues. 'Young Criminals', 'Kicks', 'Rockers' and 'TV Blues' rolled back the years and were followed by more classic album tracks ('Endangered Species', 'Emotional Blackmail') before it was the turn of the singles. You probably know the rest ' Warhead' (Charlie thanked the crowd for one of the best sing alongs ever), 'Stranglehold', 'Teenage' – which led to some very broad smiles on the faces of the crowd as they sang along to every word, and 'Tomorrow's Girls' all sounded fresh and energetic. Of course the band came back for an encore, Topped and tailed by 'CID' and 'New York State Police' the final section left everyone in the hall knowing they had witnessed something special. Not because they'd heard these songs live – they'd surely all seen them before. No, there was something else going on, a real celebration. It had taken nearly 40 years to get to this point and here we all were at what felt like the climax. Both the band and the crowd in mutual admiration – but of course it's not the end at all. Just a milestone passed. The band will continue to play and even record more singles, EP's whatever – but don't expect them to start another alphabet series!"
---
Please contact us if you can provide this website with any of the following:
Your personal review of the show
A poster/flyer/ticket for this gig
A recording of the gig
Photos from this gig
This gig's set list
Any newspaper/fanzine preview or review